Sale!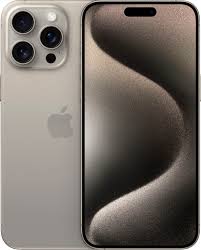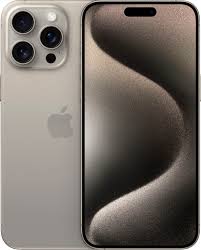 Titanium sides, USB-C, 5x camera and new action button make for the biggest iPhone upgrade in years
Camera
The 15 Pro Max has Apple's most powerful camera yet. It shares the same general setup as last year's 14 Pro, including a 12-megapixel ultrawide camera, 48MP main camera and a 12MP telephoto camera, but with a couple of key differences.
The telephoto camera on the Pro Max has a 5x optical zoom, up from 3x on the standard 15 Pro and previous models, which significantly closes the distance to objects and finally gives the iPhone meaningful magnification. The camera can then stretch up to 25x digital zoom with good results up to around 10-15x. The main camera now captures 24-megapixel photos by default – up from 12MP – and can shoot at three different focal lengths (24, 28 or 35mm), which will please keen photographers. It also keeps the useful 2x optical zoom from last year.
Portrait photos are now captured automatically when the camera spots a person or pet without having to switch to the dedicated mode. You can then edit the photo and refocus it after the fact into a portrait, which is a much better system. It also means portraits can be shot with night mode for significantly better photos in dim light.
The camera also shoots with a whole bunch of advanced video technology, most of which will only be used by videographers or film-makers, but for the amateur it means you get really great looking videos with very little effort.
Overall, the camera on the 15 Pro Max is one of the very best in the industry and a reason to buy the biggest iPhone over the smaller 15 Pro, matching Google's Pixel and only out-zoomed by Samsung's S23 Ultra with its 10x optical zoom.
Price
The iPhone 15 Pro Max costs from £1,199 ($1,199/A$2,199) with 256GB of storage.
The second big new feature for the iPhone in 2023 is the switch from the Lightning port to USB-C for charging and accessories. How much of a difference that makes will depend on the number of Lightning accessories you have. For most it will be a simple cable switch for charging, one of which is included in the box.
You can use your existing power adaptor and no longer have to buy costly Apple cables as any USB-C cable should work, including those used by every Android phone, PCs and Macs, iPads and other tablets. You can even charge other devices up to 4.5W from your iPhone, including AirPods, an Apple Watch or other phones if you are desperate.
More interestingly, you can connect practically any USB-C accessory to the phone. I successfully hooked up various USB-C docks, game controllers, ethernet adaptors, flash drives, audio adapters, display cables and SD card readers, the later of which was particularly handy for a photographer. It also opens up the possibility of connecting game controllers and other devices, such as the USB-C version of the Backbone One. Note the 15 Pro and Pro Max support faster USB3 (10Gbps) transfer speeds but the cable in the box is only the slower USB2 (480Mbps).
The 15 Pro and Pro Max are the first iPhones to ship with the A17 Pro chip, which is 10% faster with 20% more powerful graphics and supports advanced ray tracing graphics, which should enable more realistic, console-quality games.
Pros: lighter than predecessors, great cameras, 5x optical zoom, USB-C, new action button, long battery life, top performance, brilliant screen, 5G, long software support.
Cons: very expensive, big frame despite reduced weight, more repairable design restricted by software locks.
Description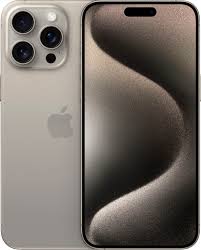 Specifications
Screen: 6.7in Super Retina XDR (OLED) (460ppi)
Processor: Apple A17 Pro
RAM: 8GB
Storage: 256, 512GB or 1TB
Operating system: iOS 17
Camera: 48MP main, 12MP UW and 12MP 5x zoom, 12MP front-facing camera
Connectivity: 5G, wifi 6E, NFC, Bluetooth 5.3, Thread, USB-C, Satellite, UWB and GNSS
Water resistance: IP68 (6 metres for 30 mins)
Dimensions: 159.9 x 76.7 x 8.25mm
Weight: 221g
Q & A
There are no questions yet
QR Code